I really like musicals. In fact, I like musicals so much that I won the Book of Mormon ticket lottery last night and drove 1.5 hours from my college town to see it. I ended up getting home at 1 in the morning because of it.
So worth it.
Aside from musicals, I also love to read and so Ron Chernow's Alexander Hamilton is a perfect choice for me. Most people who breathe have probably heard of Hamilton: An American Musical by now, whether it's from that One Annoying Theatre Friend (read: me) or the radio.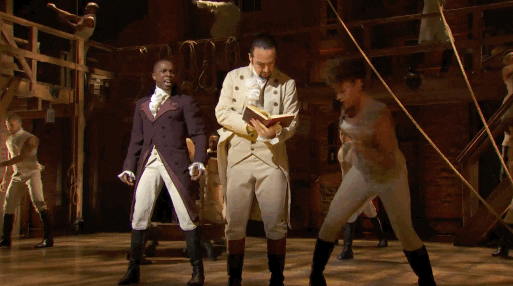 This book is still an interesting read without the swashbuckling hip-hop elements. I was surprised that I liked it as much as I did. Just as a note before I get started, this review is coming to you in parts. This will be a review of the first 250 pages or so, from Hamilton's birth to the Constitution's birth.
Chernow starts the hefty biography by introducing Hamilton's wife, Eliza. He paints a picture of her as devoted and accepting even in the face of turmoil, giving us an insight on what her relationship with Hamilton was like while he was alive. As most people know, Alexander Hamilton died at age 50 in a duel with vice president Aaron Burr; his wife outlived him by decades. After his death, she made it her priority to carry out his legacy: establishing orphanages, rallying for abolitionism, and documenting Hamilton's thousands of pages of writings.
"It was, Eliza Hamilton Holly noted pointedly, the imperative duty that Eliza had bequeathed to all her children: Justice shall be done to the memory of my Hamilton."
The prologue ends and thus begins Hamilton's life. He was born upon the island of Nevis, a small island in the Caribbean that no one has ever heard of. Seriously. I had to Google it and I'm from the Caribbean.
From here on, the pages are densely packed with information in such a way that it's very easy to get overwhelmed. Alexander Hamilton is definitely not a book you can afford to drift off in; it demands your attention, much like Hamilton himself. However, Chernow is masterful in documenting Hamilton's life in such a way that you get the whole feeling behind it.
The musical's big number is this song called My Shot and it's clear where the inspiration was garnered. Hamilton's whole life was dedicated to not throwing away his shot at greatness. Despite being born on a tiny slave island and suffering from some of the greatest misfortunes (a dead mother, an absent father, a cousin who committed suicide, childhood illness that stunted him for the rest of his lifetime, living on Nevis. [Seriously, where even is that?]), he refused to fade away into the background. He also refused to sit down and shut up and he needed to, but that'll be in the next review.
Chernow has a beautiful way of writing in that you really do want Hamilton to succeed despite his propensity for being hot-tempered and overly wordy. You cheer Hamilton on when he demands to go to the Constitutional Convention or when he asks Washington for a command. You giggle when Washington drags him away from officers' wives or when he says the wrong thing to the wrong person.
"Washington must have seen that Hamilton, for all his brains and daring, sometimes lacked judgment and had to be supervised carefully."
Whether you're a fan of the musical or not, this book is really worth a read. It has some beautiful language paired with historical documents, making it educational without being slow or boring. Despite being a founding father, Hamilton really did not have a boring life, but we'll get to that later.
Till next time.
WORD COUNT: 579